Firm History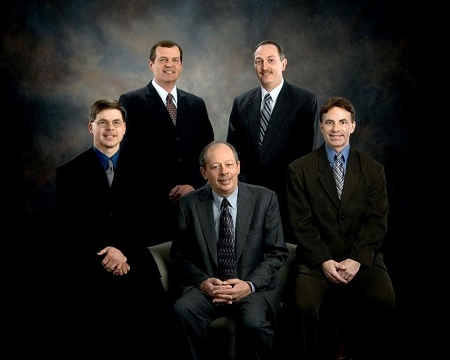 Mote & Associates, Inc. was established in 1972 by Richard Mote with a goal of providing civil engineering and surveying services to the private sector and local governments in west central Ohio. The four current owners of the firm, Louis Bergman, Mike Bruns, Mike Henderson and Jerry McClannan, have a combined total of more than 130 years of technical engineering experience and continue this tradition. The company has also expanded its operations to include commercial building design and agricultural engineering.
Mote & Associates, Inc. works with a vast array of projects and clients and has developed a broad range of knowledge and experience. The longevity that our firm provides is one of the main strengths that we offer. This continuity, along with the flexibility to address small and large needs, allows us to build on previous projects and coordinate efforts to help clients in making good decisions about present and future improvements to achieve their goals.
Our Vision
Our innovative team will be recognized as the respected leader in providing quality engineering and surveying, taking pride in earning complete customer satisfaction.
Our Mission
Mote & Associates, Inc. is a professional design company striving to provide the highest possible quality of services in the field of engineering and surveying. We will do everything possible to meet our customer's needs in a timely, courteous, and helpful manner. We will always remember that our customers are the reason we are in business and that serving them is not an imposition on our time, it is the reason we are here. Personal attention to all clients' needs is our highest priority.
Mote & Associates, Inc. is dedicated to the process of constant improvement. We continually seek ways to improve our operation and better serve our customers. Management and employees work together to constantly gather new ideas and suggestions from each other and from our customers.
Our Staff
Jerry McClannan, P.E., P.S. – Principal Engineer
Michael Henderson, LEED GA – Design Manager
Louis Bergman, P.S. – Field Operations Manager
Michael Bruns, P.E., S.I. – Professional Engineer
Tom Boyer – Engineering Designer
Corey Bremigan, E.I. – Project Engineer
Sharon Hemmelgarn – Business Administrator
Mary Kester – Sr. Administrative Assistant
Susan Laux – Grants & Funding Manager
Dave Mathews – Environmental Project Manager
Don Miller, P.E. – Project Engineer
Steve Miller – Structural Design Coordinator
Tanner Mote – Cad Technician
Cody Munchel – Engineering Associate
Garret Price – Project Manager
Darren Reeves – Construction Project Associate
Heath Riffell – Construction Project Manager
Lisa Ritz – Administrative Assistant
Alex Subler – High School Intern
Alanna J. Yeoman, BArch, CPHC – Project Designer