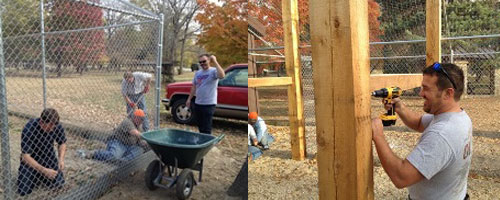 The Mote & Associates, Inc., Engineers and Land Surveyors, Greenville, Ohio joined millions of volunteers around the world in participating in "Make A Difference Day".  This day of community service demonstrates what is possible when companies, communities and non-profit organizations and individuals join together to create change.  "Make A Difference Day" is a day to celebrate the power of people to make a difference!
This year, Mote & Associates provided the labor and supplies to complete the final "finishing" tasks on the newly built peafowl house located in Greenville City Park. The work was completed on the sunny days of Thursday, October 22nd, and Friday, October 23rd.
Mote & Associates, Inc. is appreciative of Ansonia Lumber for assisting with materials and for the asststance of the City employees and Park volunteers in overseeing our staff for the final fencing and gravel placement.
Those employees participating this year included Heath Riffell, Matt Venable, Mitch Pitsenbarger, Dave Mathews, Tom Boyer and Mike Henderson.